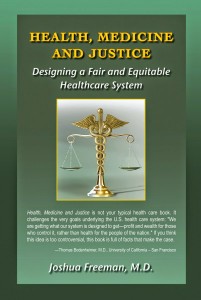 Health, Medicine and Justice
Designing a Fair and Equitable Healthcare System

By Joshua Freeman, M.D.
Joshua Freeman is a leader in primary care, both as a practitioner and as an academic, being the Chair of the Department of Family Medicine at the University of Kansas Medical Center.
He has an excellent understanding of our disorganized health care system and of the social determinants of health and health inequities. He has studied extensively medicine and social justice, and shares his views through his blog.
This book brings to print the basis of his passionate activism in support of equitable health care for all.
———————————————————————————
Contents
Chapter 1:  Why Do We Have a Healthcare System?
Chapter 2:  The U.S. Healthcare System: Best in the World?
Chapter 3:  The Social Determinants of Health and Health Inequities
Chapter 4:  Impact of the U.S. Health System on the Health of the Public
Chapter 5:  Primary Care: The Essential Basis for an Effective Healthcare System
Chapter 6:  The Role of Medical Education in Perpetuating the Health System
Chapter 7:  Graduate Medical Education
Chapter 8:  Assessing Appropriate Healthcare: Sometimes the Best Thing to Do Is Nothing
Chapter 9:  The Role of Profit in U.S. Health Care
Chapter 10:  Solutions and Projected Outcomes